Testimonial from Rodrigo Dominguez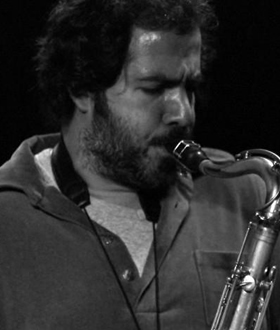 I fell in love with this mouthpiece just from the moment I opened the shipping box. Such a beautiful packaging could only mean an extreme care for details, and when I tried it... wow! it just blew me!

The mouthpiece sounded so big, so deep and versatile that i couldn't believe it. I've pushed it to the extremes of the register and dynamics, and it responded with ease and evenness. also, every reed I've tried (even some that didn't work fine on other mpcs I have) worked it's best. I'm very happy that I came across this. It's an instrument on it's own right. Thank you Aizen!


Biography

Rodrigo Dominguez is a saxophonist in buenos aires' new jazz scene.

He won a scolarship to attend Berklee College of Music in Boston, where he'd finally go in '98. He studied with Jerry Bergonzi, Hal Crook, Greg Hopkins y Ed Tomassi, and in NY with Chris Cheek. he also attended to private lessons, masterclasses and jam sessions with artists such as Walt Weiskopft, Ralph Lalama, Chris Potter, Perico Sambeat, Branford and Wynton Marsalis, Pat Metheny, Herbie Hancock, Wayne Shorter, Phil Markowitz, Marc Copland, Tony Malaby, Chris Potter, etc.

When he returned to buenos aires, toghether with trumpet player juan cruz urquiza and drummer oscar giunta, he founded Quinteto Urbano, one of the leading groups in the new argentinean breed, combining a typical jazz instrumentation and language with the elements of argentinean musical tradition.

He also lived in Brazil, where he grasped the flavor of their rich musical heritage directly from some great brazilian artists he studied and worked with. Ever since he came back, he's been also working as a sideman with the most renowned artists in the scene, demonstrating a high degree of versatility and sensitiveness, yet remaining strongly personal.

He recorded and toured extensively in America and Europe with different projects involving musicians from all around the world.

He leads his own projects like his quintet and his organ trio. His style combines the tradition of the great tenors with the rhithmic and melodic flavor of tango and folklore, and an growing interest in expanding the boundaries of improvisation. he also works as a teacher in the main jazz school in buenos aires, attended by musicians from all around southamerica. this endeavour earned him an important place in theprocess of growing and nurturing the contemporary jazz scene.


http://www.myspace.com/rodrigodominguez